Top 5 Attributes to Look for in an Offshore Software Developer
If you've ever opted to use an offshore resource for your software development needs, chances are you either had a great experience or an awful one. Offshoring is an alternative engagement model that brings out very diverse opinions from industry experts. Different people have had different experiences with offshore workers, and these experiences are a result of the way their project delivery was managed by the offshore service provider.
With the current technical talent gap, it is important that CTOs start looking at alternate staffing solutions to hire software developers. If done in the right way, adding an offshore team member can help CTOs and project managers deliver product updates faster. At the same time, they can keep projects within budget, and gain the added comfort of scaling operations at ease, by tapping into the immense technical talent pool that offshore development offers.
However, to make this work, CTOs must understand the right qualities to look for in an ideal offshore developer. Here are 5 key attributes that every offshore software engineer must have.
1. Collaborative in their Approach
An effective offshore developer must be an agile self-starter in order to work well as a remote member of the project team. They must be equipped with the right project management and team collaboration tools so that there is no lag in their work schedule or task delivery. The ability to get stuff done without having someone supervise them 24/7, along with a hands-on approach to collaborate on ideas and deliverables are essential to successful offshore software development. Also, it is a better approach to have the offshore development team working under a 'staff augmentation' model rather than a project based model. The direct control and communication, which staff augmentation offers is vital to improving the collaborative nature of a geographically dispersed team.
2. Excellent at Communication
One of the major drawbacks of having an offshore worker on your team is their inability to communicate well with your on-site team or clients due to a cultural or language barrier. A successful offshore worker must be able to communicate in excellent written and spoken English, have a clear understanding of American business culture, and always be upfront with project requirement commitments. Effective communication facilitates the flow of ideas amongst team members and helps build a strong team culture. At the same time, cultural understanding helps them understand each other better.
3. Accountable to the Workflow
Lack of accountability is probably the single most important reason offshore teams fail. It is imperative that an offshore software developer is completely transparent and honest about the work and provides regular insights into how their time gets spent while billing work hours for clients. This transparency helps develop trust and at the same time, keeps the developer focused on productivity avoiding unnecessary distractions.
4. Flexible to Learn, Adapt, and Execute
In order to be rated as a top-level talent globally, an offshore software engineer must have a diverse skill stack and a drive to update their understanding of upcoming technologies constantly. They must have a broader perspective to view development technologies as tools in their arsenal to build the next great application. On top of that, they must have a strong grasp over globally standardized project management approaches and should be able to adapt to any PM framework as per project requirements.
5. Control Over Intellectual Property
A substantial number of tech startups are built around unique ideas that require the founders to file for patents and be able to protect the product idea as an intellectual property. If you have a remote team involved at such an early stage of product development, it is imperative that they have an understanding of confidentiality agreements and must be able to abide by them. Having such agreements not only ensures code security, but also guarantees that the project idea remains legally protected from disclosure to outside parties.
If you are looking to augment your existing project team and add an offshore remote resource, make sure you analyze them using the above attributes in order for them to add value to your startup product.
What other attributes do you think a successful offshore software developer must have?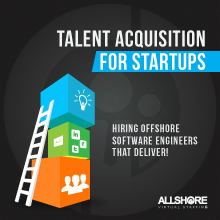 Offshore Talent Acquisition Guide for Startups
Let us show you how to build a remote software development team that drives your business forward!
{{cta('d5006690-dbf6-45c3-8d73-abfa9982eb4c','justifycenter')}}