Top 4 Startup Hiring Strategies to Overcome Talent Shortfall
For early stage startup founders, high-value talent acquisition is the first step to building their disruptive idea into a minimum viable product. Finding candidates that are just the right fit to the product niche and getting them onboard can be a tough task, particularly with the current shortage of technical talent in the U.S., and the top talent flocking to startup hubs. The best way for founders to attract talent to their new venture is by adopting alternate strategies that can work well with their early business stage. Here are 4 essential strategies for startup owners to overcome technical talent shortage and hire the right talent for their startup.
1. Brand Your Startup Organization
The first step to finding the perfect people for your startup team is to know who you are, and why someone would want to join your organization. Effectively managing your brand perception across both online and traditional mediums can be the catalyst to attract great talent.
Strong Social Media Presence
Candidates often search for your company information on social media as it is the easiest way of evaluating your brand. A strong social footprint showcases an active startup culture, and it is an indicator that you value the people you work with and the daily milestones that they achieve.
Employees as Brand Advocates
Your current employees are your biggest assets when it comes to positively expanding your brand perception. A good way to get the most out of your employee network is encouraging them to share their daily experiences on social media in real-time, hence supporting the claim that you have a great startup culture. Educate your team on how they can post engaging content that echoes your brand personality. Developing your employees into tech evangelists not only leads to higher retention rates, it also ensures that your startup attracts the top upcoming talent.
2. Utilize Referrals
Hiring through referrals is still one of the most effective ways to get the right kind of talent in the least amount of time. Employees that are hired on referrals generally start working sooner than those hired independently, as hiring managers are able to assess whether they are suited for the position a lot faster without going through extensive interviews and background checks.
Founder Referral Network
For a startup founder, building a stellar network is key to growing your startup idea into a multi-million dollar firm. Not only that, it can lead to getting excellent talent referrals from the startup community. Founders must go out and frequent networking events, get to know the influencers in their niche, and seek out their referrals for not only startup growth but also for growing their team.
Employee Referral Programs
15 employees with 300 friends or followers on social networks totals 4,500 contacts alone. And since there's a high probability that your employees have a network with people in their area of expertise, your next great talent acquisition is just an employee referral away. Having an employee referral program in place makes sure that your current team has a vested interest in the recruitment drive for technical talent.
3. Recruit Disruptively
A startup culture revolves around disrupting the conventional norms of business, and that can be applied to your recruitment strategy as well. Hiring in an unconventional manner shows candidates that you are an innovation focused startup, and ultimately a great place to work.
Hackathons
Attending or organizing a hackathon in your area is one of the best and most innovative ways of networking with the top technical talent available. These software collaboration events are a beehive for the finest software developers, interface designers and project managers, and should be a top priority on every startup CTO's itinerary.
Engaging Upcoming Talent
For talent seeking to be tomorrow's leaders, an active social presence begins very early in their academic life. These aspiring innovators are best engaged early on, through recruitment drives at their college or university campuses, or at startup institutes that offer immersive learning programs for fresh graduates.
4. Embrace Offshore Staffing
With the current shortfall of talent in U.S., offshore staffing has emerged as an alternative to hiring in-house resources. Many startups employ dispersed teams, where an onsite project manager communicates daily with remote staff in other parts of the world. Part-time or full-time virtual teams have many proven benefits such as faster product development, reduced costs, and vast scalability options.
Establish a System for Offshore Teams
Software firms opt for outsourcing their projects to offshore service providers, but that is not the right approach for a startup venture. Startups can have more control over the offshore resources if they opt for staff augmentation instead, having an extended offshore team working directly alongside the founding team on product development. This ensures that the product vision is still translated into the development process, and the startup culture remains intact.
Create a List of Must-Have Traits for Your Remote Employees
Your offshore teams must be organized in such a way that they are productive towards your startup environment on their own. You or your offshore staffing partner must make sure that your extended team has all the right skills and tools to bring value to your product venture. Here are some of the top traits to look for in offshore development teams.
Excellent communication skills and comfortable using various mediums
Required toolset to perform the assigned tasks and a reliable Internet connection
Ability to absorb new knowledge and apply learning quickly
Self-management and able to work on deadlines
Committed to overall product goals
What other startup hiring strategies have helped you find great talent as an early-stage startup founder?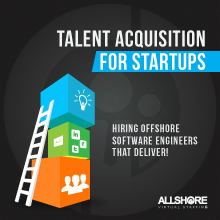 Offshore Talent Acquisition Guide for Startups
Let us show you how to build a remote software development team that drives your business forward!
{{cta('d5006690-dbf6-45c3-8d73-abfa9982eb4c','justifycenter')}}