Top 3 Reasons Why Offshore Software Development Fails
In the past, hearing the word "offshore" might have made you cringe. While it's true some people might have negative offshoring experiences to share, not all offshore software development companies are created equal. Thus, when you are looking into the vast offshoring IT world to supplement your development staff, bear in mind the red flags and pitfalls to avoid.
Here are some of the top reasons offshore software development fails:
Ignoring the Cultural Gap
Communication with offshore teams has become easier in recent years, especially due to the fact that English-speaking skills are now a must in the international market. With easily accessible Internet and an open exposure to American content, it's become relatively simple for foreign staff to catch on. However, the ability to comprehend a language does not equal cultural understanding. Beyond any simple language-barrier issue, communication styles and working personalities can greatly vary between cultures. Even variations in norms, what makes for acceptable and unacceptable attitudes and behaviors, and the vast difference in culture mindset can lead to catastrophic communication failures.
So how do you avoid this?
Encourage your offshore teams to explain their understanding of your conversations with them, particularly if it is a task assignment or a briefing.
Keep the cultural gap in mind at all times, in both formal and informal communication.
Document your meetings with the offshore developers, taking down meeting minutes and sharing with them after each discussion.
Once you've made it a healthy habit to follow these three steps, your offshore staff will begin to pick up what you need them to know, enabling them to make better decisions based around your company's culture.
Not Opting for Hybrid Teams
Hiring offshore software developers can often include not only a project team working from an offshore location, but also be managed by an offshore project manager. In these cases, managing the team is the project manager's sole responsibility, and the PM is the only team member to report back to you on all assignments and deadlines. This is where offshoring can go wrong: you have no direct contact with people developing your application, and thus you are unable to best understand those developers' skill-sets, get in-depth progress updates, and most important, gauge their comprehension of your project.
A hybrid team model can significantly reduce offshoring problems by bringing the offshore team in sync with your project goals. If you have an onshore liaison overseeing project development and the development of your offshore team, you can bridge the cultural gap and get across to your developers effortlessly.
Lack of Legal Accountability
If you are a startup founder just launching project development, your startup idea is important intellectual property, and it should be treated as such. Any code based on this idea can then be considered your company's most valuable asset. But when offshoring, there's a chance that the legal system of your staff's foreign country will not be able to protect you from code or idea theft. An offshore developer can easily sell your idea or code to competitors, and the social norms in that region might not let you enforce non-disclosure agreements even if you have the offshore team sign them.
The best and only reliable solution to this is to work with an offshore team that has onshore management. That way, you are safe with the certainty that any confidentiality agreements you sign can be protected under U.S. law.
Recap
There are various offshore development companies out there, and when you begin your search, you're sure to have many of them vying for your business. Make sure you go the safe route: ensure your offshore partner has standard processes and procedures in place to protect your company, and don't hesitate to ask questions about how they handle security problems. Then, establish your own means of communication and management processes, as discussed above, and meet your partner halfway to overcome any cultural or communication gaps that arise.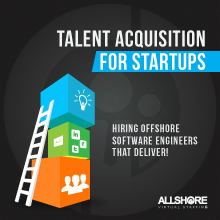 Offshore Talent Acquisition Guide for Startups
Let us show you how to build a remote software development team that drives your business forward!
{{cta('d5006690-dbf6-45c3-8d73-abfa9982eb4c','justifycenter')}}