Is Technical Talent Shortage Hurting Your Startup Growth?
The ultimate challenge for any tech startup is finding and acquiring the best technical talent. Try hanging out in any startup community or co-working space, and you will meet startup founders desperately searching for that crucial team member. Although technical expertise is high in demand across many industries, none depicts this demand-supply shortage like the technology industry does.
With the emergence of tech startup hubs across the U.S. acting as regional eco-systems for startups to flourish, top engineering talent from all over the U.S. is taking up work and moving to these hubs. Tech startups at the same time prefer being located at these hubs – valuing the incredible networking opportunities, stellar talent supply, access to funding, and mentorship that they offer.
However, what happens if your startup is not located in one of these tradition-disruptive ecosystems? With an already acute talent shortage and a concentration of top talent in the tier-1 startup hubs, scaling a tech startup in a non-traditional startup location can be quite a daunting task.
The Effects that Talent Gap has on Startup Growth
Successful startups are all about disruptive ideas. Moreover, ideas need a strong team that can bring them to life. Without the proper supply of talent, the tech industry loses the very essence that has helped it grow over the years – intellectual brilliance. Here are four major challenges that tech startups face as a result of the technical talent availability gap.
Challenge 1: Faster Time-to-Market
In an industry and culture based on innovation, there can be nothing more game changing than an early mover's advantage. Whether it is pitching to a VC with an MVP or rolling out that all important product update to the market, every startup needs talented people to get the job done. With an inability to fill open positions, startups can lose valuable time and competitive ground costing them money or an important opportunity.
Challenge 2: Scalability
Your startup is generating traction, and you are looking at the next phase of product development. Does your CTO have a tough time delivering product updates at a pace that meets VC expectations? If that is the case, then it is about time you scale your engineering team. Not having that crucial skill stack required for your product's next development sprint can hurt your chances of keeping your startup afloat.
Challenge 3: Focusing on Core Competencies
With product development at a standstill, the founders have to concentrate on non-core responsibilities like dealing with recruitment firms, screening candidates, and initiating social dialog to attract talent. Such distractions can be quite disturbing and may affect their focus on more important things like pitching to VCs and product leadership.
Challenge 4: Exuberant Salaries
With the rules of demand and supply in place, salaries for top talent have gone up significantly in recent years. With top employers like Apple, Google, Facebook, AirBnB, and Uber willing to pay highly inflated salaries to attract top talent, early stage startups are forced to settle for mediocre talent at best.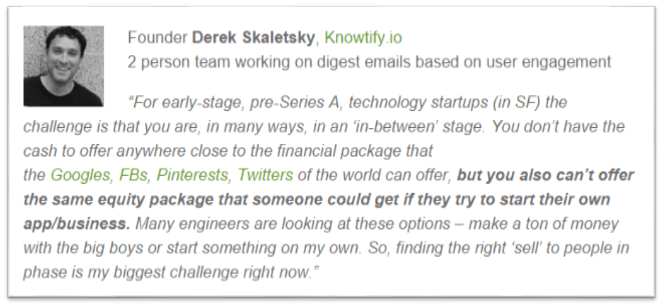 How to Overcome Talent Gap and Hire the Right Talent for Your Startup
So where can startup founders look for their next big talent acquisition? Here are 3 alternatives that can help you acquire the best talent in the industry.
Disruptive Recruiting
Utilizing multiple channels of attracting talent can increase your chances of finding the right candidates for your startup. A multi-level recruiting strategy can mean that you have a recruiting firm cover traditional talent acquisition while you have your founding team frequenting meet-ups, technology events, and hackathons. On top of that, forming a strategic partnership with a remote staffing firm can fill the gap when you are seeking talent with very specific skill stacks.
Engage Upcoming Talent
While monitoring Twitter mentions for his clients, San Francisco-based LaunchSquad founder Jason Throckmorton came across an undergrad blogger from the University of Oregon, discussing how Public Relations was evolving. Impressed by the quality of arguments made in her blog posts, he initiated a conversation eventually deciding that she would be an ideal candidate for an open role at LaunchSquad. A few meetings and an interview later the undergrad ended up getting hired. Throckmorton discovered a valuable point – keeping your eyes open and seeking talent in unexpected places can often lead to fruitful results.
Embrace Offshore
No matter what your philosophy is on offshore remote staffing, you have to accept it as a very viable alternative. By hiring the right talent in a remote setting, you can utilize experience and specialties not available locally.
An easier approach to finding the right offshore talent is through a remote staffing firm. They allow startups to have full control over the hiring process, from determining which talent they select for their offshore team, right down to how the startup manages them.
Hiring technical talent is an art form which every startup needs to master. Even with the current tech talent gap across the country innovative startups are finding ways to fill their open engineering jobs. Startup founders must think strategically, be innovative and willing to disrupt the tech recruiting norms and embrace alternative staffing as ways to work around this talent gap. At the same time, the industry at large needs to figure out how to find both short-term and long-term solutions to this problem. Such initiatives will help in retaining the U.S. as the most attractive location for startup founders, not losing the ground to upcoming high-value destinations like Berlin and Eindhoven.
Images source: SmartRecruiters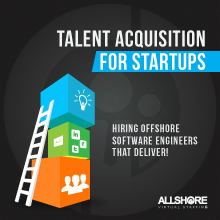 Offshore Talent Acquisition Guide for Startups
Let us show you how to build a remote software development team that drives your business forward!
{{cta('d5006690-dbf6-45c3-8d73-abfa9982eb4c','justifycenter')}}