Tech Tuesday: MicrosoftEDU 2017
MicrosoftEDU 2017
Keeping up with new tech is important, and it can be easy to get lost in all the latest tech news. So you don't get behind, this Tech Tuesday we're checking out May 2nd's MicrosoftEDU event. MicrosoftEDU was at its core the announcement of a new Microsoft operating system and laptop. Although, the theme of the day was their goal to spread opportunity throughout the world by making technology more simple and accessible. The products Microsoft created are primarily aimed at those both in school and working in the education field.
Microsoft CEO Satya Nadella started with a personal story about his grandfather being given the opportunity to go to school and study, which led to Satya's own educational opportunities. He stressed that opportunities like these are the key to an improved future for all.
Windows 10 S
Right out of the gate, MicrosoftEDU announced a new streamlined operating system called Windows 10 S. The S is supposed to signify the simplicity of the system, and the goal was to create a system to be used in schools with added security, better long-term performance, and less clutter. Microsoft achieves this partially by only running apps from the Windows Store. This is mostly only useful for teachers, who need to prevent students downloading unnecessary or potentially dangerous programs. If you want to download applications not found in Windows Store, you can, but you must switch to Windows 10 Pro, instead. Again, while it serves some useful security purposes, it would only be useful for those in the educational field, for whom the OS is built.
Windows 10 S also has options to help administrators quickly create USB keys for fast multiple device set up. The devices will have settings created by the administrator, and it takes less than a minute for the USB key to set up an out of the box device. One impressive example showcasing the ease of use was of a school, which set up 600 computers with 30 USB sticks in one day for students. Still an onerous task, but vastly improved from the individual set up alternative. Administrators have control over device settings even after set up when using Intune for Education, a software that connects all devices for a school to allow for quick updates, settings changes, and error fixes. The end of the Windows 10 S introduction announced that their new education PCs will start at $189 dollars now, and come equipped with a free update to Windows 10 S, free Minecraft Education Edition, free Microsoft Office 365 for Education, and Microsoft Intune for Education for school using their PCs already. While all of these products will be widely available, their prices were not specifically mentioned.
STEM, 3D, and AR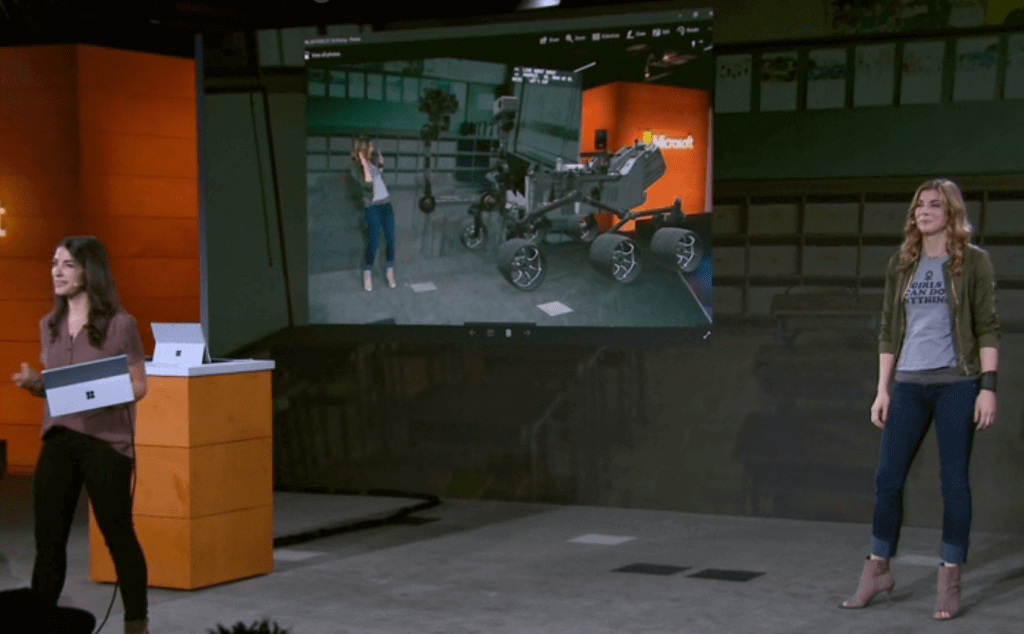 STEM was the next focus for MicrosoftEDU, including projects, coding, and 3D AR learning. Microsoft created interactive STEM lessons for the Microsoft Store that use cheap materials, such as reactive finger robot made of cardboard and straws. The beloved game Minecraft has been used in schools for years to teach problem solving and other skills, but most recently, Microsoft has now been using it to teach coding with Code Builder in Minecraft Education Edition. Students can access a robotic "agent" that will enact commands when coded, such as mining for materials or building. Following that, Microsoft demonstrated the 3D and AR options that will be available for teaching. First, a demo showed how Paint 3D creates moving models that can be included in Powerpoint presentations with automatic animations. The program View Mixed Reality allows students to use augmented reality to show digital images in comparison to real life items. In the photo above, Curiosity, the rover that landed on Mars, was "placed" next to the speaker in order to compare her size to the size of the Curiosity. The goal is to give a better idea of what items actually look like to students. A simple RGB camera is all that is needed, which is good news for schools. Of course VR, the long standing love of education, dominated the next demo to show the learning capabilities of virtual reality in exploring geography, space, and even human anatomy.
Surface Laptop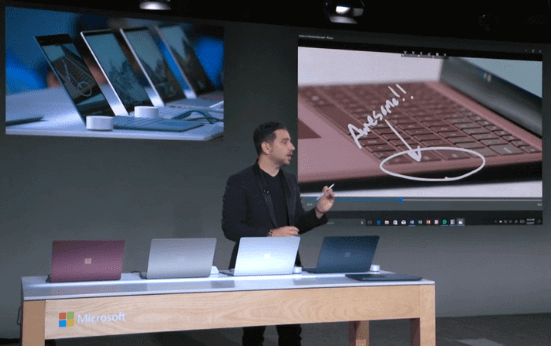 Lastly, Microsoft debuted the Surface Laptop, a device designed for long-term student use. Marketed as a sleek, streamlined, and dare I say it, sexy, laptop, the Surface Laptop has several interesting features. With hidden hinges, multiple color options, and the unusual addition of fabric to the computer, Microsoft is betting on the look of the Surface to attract buyers. Even the advert video is designed to get consumers' hearts beating – with a literal heartbeat in the background. The speaker gushed over the aesthetic of the computer, including the 2.76 pound weight and 14.5 mm thickness, lack of rubber bumper around the edge, and lack of visible hinges or screws. The computer has touch screen capabilities for students to write on videos, papers, and more. Touting 14.5 hours of battery life, this computer is built with the intent to use less power with the processor. Even more impressive is that when you close the lid to the laptop, processes stop, keeping the battery life the same as when it was closed. The fabric surrounding the keyboard is supposedly soft and durable, but is also meant to allow for sound to pass through from the speakers that lay under the keyboard, an interesting first for laptops. The Surface Laptop is available to purchase June 15, 2017, starting at $999, and can be preordered this month.
As a whole, the MicrosoftEDU event featured some impressive, though very specialized, tech. If you're interested in watching the full event, head over to the May Event page where you can also find specs and other highlights.