Opening Doors to International Funding for American Startups
A recent trend for startup incubators and VC firms in the U.S. is to capitalize on the global boom in the technology and SaaS sector by making investments in offshore startups all over the world. Top-tier seed incubators like 500 Startups have long since expanded their portfolio to include places such as Latin America and the South Asian region. Their reasoning is that since Silicon Valley has become so saturated with venture capital opportunities for startup founders, it's important to look elsewhere for promising ventures.
American startup founders should look at this trend as an opportunity rather than a problem: it's their means to approach international partners and VCs from areas like the European market or the Middle East for funding opportunities. Fundraising at early stages is a lot easier today with the presence of startup hubs in every major city. Although, reaching out to international seed investors can be a great tactical approach for getting global exposure. Seeking out partnerships with foreign VCs, Angels, and startup intermediaries can really help in generating international traction.
Ever since the Startup America initiative was launched to foster high-growth technology entrepreneurship throughout the U.S., there has been a significant boom in venture funding of American startups. In fact, local and international VCs generated a combined total of $48.3 billion into U.S. based startups in 2014, the highest since 2000. International investors have begun to show more interest in capitalizing on this boom. A prime example is Chinese Internet giant Baidu investment in the San Francisco-based company Uber. With the growing use of startup networking platforms like AngelList and FounderDating, founders can now easily connect and pitch to offshore VCs. This allows them to additionally support their pitch with numbers on the tech startup growth rate in the U.S. and promote a great product.
Also, seeking out partnerships with offshore VCs can be an excellent way to establish a foothold in their respective regions for later market entry. You can accomplish this by setting up hybrid onshore-offshore teams during the early, talent acquisition stage. The offshore talent can later be utilized to gather market insight on local investors from that region. However, every region has a different mindset and might have a different take on your startup idea. While destinations like Berlin and Eindhoven would be more interested in high-tech disruptive B2B products, the Asia-Pacific and Middle East regions are more willing to adopt consumer targeted startups. Additionally, investment criteria and equity distribution parameters would differ significantly, and that is the kind of information you would get easily from on-ground partners.
Building strong offshore partnerships from the get go can eventually lead to international expansion and funding rounds from local investors in those offshore destinations. Therefore, startup founders must prioritize offshore relationships to be a key to global expansion and subsequently, international funding.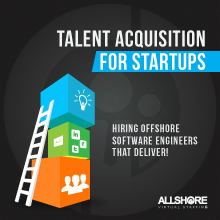 Offshore Talent Acquisition Guide for Startups
Let us show you how to build a remote software development team that drives your business forward!
{{cta('d5006690-dbf6-45c3-8d73-abfa9982eb4c','justifycenter')}}