Does an Offshore Workforce Kill the Startup Culture?
Startup cultures are defined by the kind of talent the founders hire, and by the value-based environment created around the collective ideals of the startup's initial team. Different startups value different things – but the ultimate goal is to create a unique working environment with a culture of innovation, brainstorming and peer-to-peer networking.
To create an optimal culture, a number of startups implement culture hacks ranging from quirky work habits to long term incentives. Hubspot's random desk-shuffle for their product team, Dropbox's Hack Week, and Palantir's product release t-shirts are just a few examples of how innovative tech startups seek to build their cultures around innovative ideas.
For an early-stage startup seeking cost-saving measures, hiring an offshore team for initial product development is a good approach to scaling the startup at a fast pace. But having an offshore workforce can affect the culture development over time if the offshore resources are not managed properly. Remote teams can at times get disconnected from the vision that the startup resonates, leading to a shift from the ultimate objectives that the product development is based around.
Here are 4 key tips to managing an offshore workforce in a way that they support your startup culture:
Go for Staff Augmentation over Project-based Teams
A significant number of outsourced development teams work in a project-based model, where an offshore project manager deals with the startup's CTO, hence cutting off any direct access to the development resources. This is a very limited approach, as it blocks out any cultural assimilation of the remote workforce into the startup environment.
A viable alternative is having augmented teams that work directly with the startup founders in order to gain a stronger understanding of the product idea. Direct offshore resources are more invested in the product development as they have a clear path to the founders' vision. They don't see the product as just another development task but as a disruptive solution to a social need.
Take a Hybrid Approach
A hybrid approach to offshore development teams is the key to a synchronized startup culture that transcends boundaries. Having a team relations expert that understands international cultures working alongside your project manager or CTO, to manage the offshore resource, can be the difference between an awesome offshoring experience or an awful one.
Having a hybrid team can lead to a strong, culturally fit global startup team that can help the startup owners scale their business model internationally.
Foster Cultural Understanding
A cultural gap often prevents offshore workers from effectively communicating their ideas to the startup's CTO or project manager, preventing the startup from taking full advantage of the offshore team's creativity and technical skill set. This can be avoided by organizing virtual activities focused on building a stronger bond between the onsite and offshore teams, thus strengthening the startup culture as a whole.
Arrange Global Team Meets Annually
Startups, which are past the initial funding stage, can have their offshore teams visit the startup's main hub in the U.S. once a year. Annual team meetups will not only ensure that the offshore team is up-to-speed on U.S. technology trends, but will help build stronger working relationships among your global roster.
Having an offshore workforce does affect startup culture greatly, but managing your remote teams while utilizing the above approaches can eliminate 80 percent of this adverse effect. The value that technically strong offshore teams offer in terms of cost saving, scalability to meet project demand, and faster time to hire resources, makes up for the remaining 20 percent of cultural difference.
What has been your experience with offshoring and how has it affected your startup culture?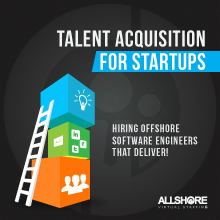 Offshore Talent Acquisition Guide for Startups
Let us show you how to build a remote software development team that drives your business forward!
{{cta('d5006690-dbf6-45c3-8d73-abfa9982eb4c','justifycenter')}}