6 Common Startup Recruiting Mistakes and How to Avoid Them
Hiring top talent is one of the biggest challenges for startup founders, especially at an early stage where having the right people on your team can be the difference between startup success and failure. Early stage technical hires must be able to hit the ground running when it comes to adapting to the requirements and pace of product development. With less time and resources to devote to the hiring process, it is extremely important that founders are aware of the common recruiting hurdles that most startups face. Here are the 6 most common startup recruiting mistakes and how to avoid them:
1. Hiring Generalists over Specialists
At an early stage, it is tempting for startup founders to focus on finding that elusive developer evangelist, who can write great code, lead the development of your product vision, and get tech enthusiasts excited about what your product offers. But waiting for that all-around star to come along may not be the best idea when faced with product launch deadlines.
Instead, seek out and hire talent that specialize in different areas of expertise, so that you can build a strong team that compliments each other's skill sets. To do that, you must have a detailed know-how of what skill stacks your product requires at each stage and look for candidates that specialize in those areas.
2. Not Having a Comprehensive Job Description
Before you start reaching out to candidates for an unfilled startup role, you must have a detailed job description to guide you on what your requirements are for that position. You will then be able to accurately evaluate each candidate on up to what extent their expertise and experience matches your requirements.
A comprehensive job description must include the complete list of responsibilities, skill stack, personality traits, required qualifications and any other capabilities that you're looking for, along with how you see position as adding value to your startup.
3. Avoiding Structured and Challenging Interviews
You met this really interactive programmer at a technology conference last week, and your first instinct is to have a quick Skype interview with them and then make them an offer based on how it goes. This is how a number of startup founders end up hiring their early talent, not assessing candidates via structured interviews and proper screening.
Your initial Skype call or face to face meeting should only serve as a screening process, where you assess their creativity and temperament. Follow up with a structured, challenge-based interview where you have them provide the best possible solution to a technical process from their area of expertise, on the spot. This will reflect their resourcefulness and ability to adapt when faced with challenges in a startup environment. Finally, have a communications interview, where you assess their ability to collaborate with multiple stakeholders as well as their personality traits like willingness to learn and self-awareness.
4. Not Selling the Candidates on Your Startup Idea
For a disruptive startup idea, having an early stage team that is as passionate about the product as the founders, is key to the concept being adopted by the industry. If your early hires are not sold on the product, chances are they will deviate from the startup goals from time to time.
Make sure that you give all of your candidates an orientation in their initial interview on how your startup disrupts traditional business with its mere existence. Every single candidate must see your passion, progress and accomplishments on your way to being the next big startup idea, showing them that an opportunity to work with you is a great career move for them.
5. Recruiting Talent that is not a Cultural Fit for Your Startup
Working in a startup environment means having the ability to constantly learn and adapt, and at times managing multiple tasks resourcefully. Talent that are not strategic or cannot handle change will end up being bad hires for a fast paced startup culture.
A good indicator for the right cultural fit is if the candidate has prior experience working with a startup or an understanding of startup cultures. During the hiring process, have them spend some time in viewing how your team operates – giving them an idea of the pace, energy, and initiative that is required to get through the day at your startup. If at the end of the session they are excited rather than anxious, they're definitely your next vital team member.
6. Not Utilizing Offshore Staffing Partners
Acquiring the services of an offshore staffing partner can help you source the right talent and reduce time to fill for an otherwise long unfilled position. Startup owners are often hesitant in utilizing offshore talent, due to there being a great deal of uncertainty when working with offshore teams.
The best way to get over that fear of offshoring is finding a partner with a hybrid team, having physical presence in the U.S. for continuous support. Your offshoring partner must also be exceptional at hiring and training talent that can adapt to any kind of working environment across diverse cultures.
Utilizing well-defined processes with clear objectives and end results when hiring an early stage startup team must be the top priority for founders, making sure that they cover every aspect of how the hires will potentially add value to startup goals. Have any other hiring suggestions for startups? Feel free to share your insights in the comments below.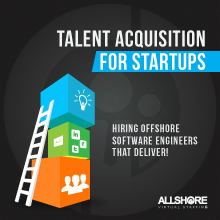 Offshore Talent Acquisition Guide for Startups
Let us show you how to build a remote software development team that drives your business forward!
{{cta('d5006690-dbf6-45c3-8d73-abfa9982eb4c','justifycenter')}}