How Do Offshore Software Developers Compare to Local Talent
As a tech. entrepreneur, you will inevitably be faced with the decision of hiring an in-house developer or to outsource your software development offshore. Most recently, offshoring has emerged as a popular trend in the IT industry due to the increasing demand of software development services. However, going offshore has both its benefits and drawbacks. By understanding the contrast between engaging offshore software developers vs. hiring in-house help, you will be able to make the best decision for your company.
Offshore Developers vs. Onshore Talent
Cost – The vast difference in cost is the most prevalent benefit of offshore developers. An offshore resource generally costs one-third the salary of U.S.-based software engineers. Salaries for in-house senior programmers range from $60K to $120K per year, whereas you can hire 3-4 senior developers in the same amount at an offshore destination. You can further this cost difference to your advantage by utilizing the savings by investing that amount into your software architecture, and in turn build a more feature-rich product or application. With onsite engineers, another consideration is the benefits package, including the cost of health insurance, 401K, etc.
Skill Stacks – Offshore locations such as Pakistan and India have a wide range of STEM graduates, trained on the latest software technologies. Although, there can occasionally be a noticeable gap in practical experience working with latest backend technologies. This is often due to the fact that offshore developers are seldom given direct access to the project owner, or provided the explanation of the final vision for the product they are working on. This project-based approach to offshoring lends to a major understanding gap in regards to how the development stack affects the overall infrastructure and the future growth of the software application.
The Fix – A staff augmentation approach. Make sure your offshore developers are an extension of your onsite team. Additionally, enable them to work directly with an in-house project manager, who can fully outline the project vision and expectations.
Time to Hire – In the U.S., most backend software development positions remain open for an average of 45 days. This means the acquisition of an onsite (or even remote) onshore engineer is considerably time-consuming, a costly difference to seeking an offshore resource who is typically available much quicker. The only concern when opting for an offshore team is taking the time to find the right service provider to meet your requirements.
Code Collaboration and Security – Being on the same page in terms of project requirements and delivery is often challenging when working with offshore developers, mainly due to differences in project management approaches and contrasting business cultures. Collaboration with offshore resources on the project and the code can be more difficult as compared to in-house developers primarily due to the difference in location. On top of this, code security can be a concern, especially since legal contracts may not hold up in offshore locations.
The Fix – An offshore team with onshore management. When choosing your offshore service provider, always opt for a company with American management. This will enable you to directly collaborate and implement the latest project management approaches, such as Scrum. Most importantly, you would also be able to enforce code confidentiality agreements sustainable under U.S. law.
Infrastructure and Logistics – Offshore development providers can lack the necessary infrastructure, prohibiting their staff from successfully working full-time and properly testing applications. Conditions such as poor network bandwidth and inaccessibility to current devices can hinder a provider's ability to perform as needed. On top of this, the time difference can wedge a gap in real-time communication, and further hurt project timelines when there is a breakdown in understanding of project requirements, due to this inability to communicate.
The Fix – State-of-the-art service centers and a working hours overlap. Firstly, ensure your service provider can perform successfully, and always inspect the quality of environment that the developer is working under, including their Internet speeds, hardware, quality of workstations, etc. Also, make certain your offshore team is available at least 80 percent of the time that your company is available for the best collaboration.
If you are faced with the dilemma of choosing between an offshore resource or a U.S.-based hire for your project, the first thing to do is to assess your project requirements and scope. From there, match those requirements with the above factors to determine which direction would suit you best: an offshore developer, or an onshore one.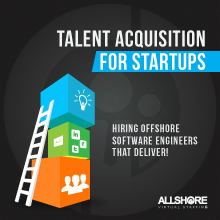 Offshore Talent Acquisition Guide for Startups
Let us show you how to build a remote software development team that drives your business forward!
{{cta('d5006690-dbf6-45c3-8d73-abfa9982eb4c','justifycenter')}}