How can Startups keep Flexible Contracts in Offshore Software Development?
One of the more common reasons startups shy away from outsourcing their product development offshore is the lack of legal accountability. Enforcing contracts with a service provider that has little to no physical presence in the U.S. can be painstaking, should the service partnership go awry. To ensure that there is full legal security, it is essential that your outsourcing vendor has an active and dedicated management team in the U.S., not just an American forwarding address.
Other than the necessary stateside presence, project owners must make sure that they enter into flexible contracts when working with their service partners. In its essence, a flexible contract is designed to deliver rapid value, by not tying a project owner to long-term commitments that may be unprofitable, and by not limiting the ability to adapt to changing requirements. An appropriately flexible contract can add a great deal of value to the client-service provider relationship. Here are 3 ways to structure a flexible contract for your startup offshore product development:
Monthly Renewals
To keep liability and exposure to a minimum, project owners must seek month-to-month contracts that allow them control over contract continuity. A monthly renewable contract allows for modular project delivery and subsequently greater accountability for both parties. Also, because it's not uncommon for the project needs to change at various points in the project, it is critical that a contract is structured in a way that allows for maximum flexibility and doesn't require renegotiating with every minor change.
Resource Scalability
In a flexible contract, the staffing requirements can be defined as tightly or loosely as desired, and the project owner can scale their teams up or down as needs evolve. This allows startups the option of hiring only task-specific developers at any given time, instead of keeping an entire team on the payroll for the full project duration.
The flexibility found in offshore destinations gives companies access to large pools of technical talent and allows for a more nimble development team. This way, a UI architect will only need to remain on billable hours until they develop a launch-ready user interface. Then, in the next phase of the project sprint, the project owner can temporarily drop the UI architect to hire new resources for the next stages – such as a mobile developer to build their iOS or Android app.
Confidentiality Enforcement
A flexible offshore contract must include a non-disclosure agreement, to ensure that the intellectual property of the founders is protected at all times. This includes code security, idea and patent protection, and any information disclosure that could otherwise be damaging to the project or the founders.
Managing accountability and control in an offshore destination should be the service partner's responsibility. Other than the NDA itself, an ideal offshore service partner should assign a stateside person, or persons, responsible for enforcing confidentiality.
A contract's structure is an effective way to evaluate your offshore service partner's performance and potential, both before and during the project lifecycle. With flexible and nimble contracts, startup owners can easily assess how effectively the offshore development team is able to align with their product vision. Not being bound to a long-term commitment, unless completely confident in the provider's abilities, limits risk and allows for flexibility in project direction and cost controls.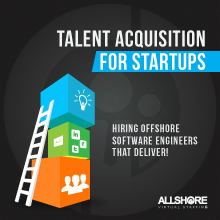 Offshore Talent Acquisition Guide for Startups
Let us show you how to build a remote software development team that drives your business forward!
{{cta('d5006690-dbf6-45c3-8d73-abfa9982eb4c','justifycenter')}}