How to Grow Your Startup in International Markets
As you build and launch a tech startup, you are faced with the need to transcend geographical boundaries to scale your business venture internationally. There is a very good chance that your product idea is applicable to a global setting, but the current approach that most startup founders have is focusing on their domestic market for gaining traction and not looking for global expansion.
With the advent of tech hubs and startup co-working spaces, a lot of new competing ventures are being launched every day that are built upon either the same or similar product ideas. A lot of these startup ventures fail within the first 2 years of launch, due to the fact that they are unable to differentiate themselves and gain enough traction in their home market. That is why looking for early international expansion is quickly becoming a need for a lot of U.S. startups in order to survive being crushed by the competition. Here are three things that U.S. based startups can utilize for moving into global markets:
Research Your Target Market Data
Start with analyzing available market data to find out if there is a market need for your product or service, and what kind of local alternatives exist, if any. You can do this using online tools such as Google's Global Market Finder and Consumer Barometer, allowing you access to country-specific market data based on keyword searches, competition, and bid estimates.
Once you have an understanding of what the market need looks like, you can easily differentiate your unique value-added features from the competition.
Localize Your Digital Presence
Having a local domain name and contact number can make it really easy for your audience in the new market to trust your startup brand. Other than your main points of contact, make sure that your social footprint and digital strategy attracts the local audience that you are targeting.
One way to do this is by pilot testing your startup product with local tech influencers. This can give you strong social proof to utilize in your marketing efforts.
Hire Globally Dispersed Talent
A good way to ensure that you can develop a strong foothold in international markets is hiring remote talent from different countries across the globe. Having a global workforce at your disposal can easily give you the on-ground insight that you will not get from research.
Start by focusing on hiring a single resource for one of your teams. Once you get more comfortable working with offshore talent, seek out partnerships and trusted team members that can help you build a strong foundation in that particular local market. For startup founders, a very easy way to do this is by growing their network on LinkedIn and Twitter to include individuals with influence in international markets, or service providers that are working in the offshore industry.
Startup owners in the U.S. must embrace global diversity in order to successfully scale their venture and generate acceptance for their startup product from a global audience.
Are you a startup founder? What has been your experience so far while looking to grow your startup in international markets?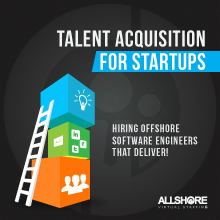 Offshore Talent Acquisition Guide for Startups
Let us show you how to build a remote software development team that drives your business forward!
{{cta('d5006690-dbf6-45c3-8d73-abfa9982eb4c','justifycenter')}}