Featured Team Member: Katie Benson
From time to time we feature different members of our team, to learn more about them and their pursuits. We decided to interview her as a Featured Team Member from Norman! Keep reading to learn more about Katie and her work with us.
Our warm-hearted designer in the office, Katie is always ready to help or lend some cheer. Allshore's Chief Operations Officer Tara Waddle told us, "Katie has been an excellent addition to the Allshore team and family. Between her excellent coordination skills as a client success manager, and her creative eye for our Allshore design work, it's been an awesome experience to see her growth over the past year. Thank you for your great work, Katie!"
A coworker of Katie's, Anne Sutherland, said: "Katie is awesome to work with. Whenever I need an image for a holiday, or a document edited in Photoshop, I can just tell her the basics of what I need and I get a beautiful finished product. I couldn't do without her design eye. She's also great to have in the office and is a lot of fun to work with. She always can cheer me up if I'm having a tough day!"
We coaxed Katie into telling us all about everything from her history to her love of history.
So Katie, tell us about yourself! Your humble beginnings, your rise to stardom, your backstory.
Well, I grew up on a farm and I used to have a horse named Florianna. It was in Jacksonville, Arkansas and we lived there until I was six. We also had a dog and goats. I don't honestly remember how the goats were, I just remember that we had them so I could drink the goat's milk, since I'm allergic to cow's milk. It was four acres of land, the front half was flat with a pond and there were horses. Then you would go up this hill with a winding road and a lot of trees and the house was up there.
Did you ever swim in the pond?
No, there were snakes in the pond. Our neighbors had a pond with a gazebo though, and I remember us playing out there making mud pies and fishing. I grew up with two kids next door, their parents were really close with mine. They had a house that they were building, and it had levies around it and was partially underground. They never finished it, but they had a lot of old random stuff inside like dresses, a iron clawfoot tub, and training swords. So this place was a little kid's dream come true. They had a swimming pool as well, and that is where I learned to swim. One time, I wanted people to go swimming with me, but they wouldn't so I just stood there being stubborn… and I ended up getting covered in ticks. My mom told me when I was a teenager that it was one of the worst experiences for her.
Do you have any other memories from that time?
I remember when we lived out there, my grandma was in charge of decorating the Christmas tree a the capitol every year for Boone County in the town of Harrison, so I would get to help her with that every year when I was little. For birthdays we dressed up in costumes and our neighbors would make these really awesome cakes. For the girls they were Barbie dolls with cake dresses.
So what comes after the farm? Where did you all move to?
Well, when my parents separated, my mom and I moved into an apartment. This was in North Little Rock, so it was a totally new environment for me. I remember telling my mom that I didn't think I would like it, but I did. My dad moved into the same complex and they stayed friends, so I got to see him a lot. That is where I met Jade, who was my best friend and we are still pretty close. We also got our dog Max, a West Highland White Terrier, after we moved there.
Was there anything in particular that really changed your mind about the move, and made you like it?
Well, I had a playground, tennis court, and swimming pool right there, so that was nice. Also, after school started I made friends pretty fast. I also started taking dance classes. My mom gave me a lot to do and never let me want for anything, so I don't think I had too much trouble coping. Actually, I am still close to most of my best friends from when I was little.
Were you outgoing or shy as a kid?
I was outgoing, and I was really good at talking to adults. In middle school I joined the school band. Being in band you make a lot of friends that way as well. I really wanted to play the clarinet, but apparently my lungs were really strong so they had me try the french horn and I loved it. In the 8th grade, David, who is now my husband, moved to Sherwood, joined the band, and quickly joined our group of friends.
Tell us more about meeting David and how you two started dating. How did that work out?
Well, in middle school there was a group of us that were friends, and this girl named Raven had a crush on David. I teased him about it a lot. When we got to high school, my mom was still a teacher at our school, and we would go to her classroom at lunch. One day she said that David was going to be really cute when he got older and I thought "Pssh, no." Then in the 10th grade he was really cute. So, my friends started pushing him to ask me out, and he got weird around me and we didn't talk for about a month. Then one day we were all hanging out at my mom's house and he asked me out in the living room. I guess the rest is history.
Were you surprised about him asking you out?
No, I knew it was going to happen. We said "I love you" a year after that, and had that cutesy high school romance thing going on. We performed music from Grease for our marching band show, and David and I got the "Summer Nights" duet. The band director had the band form a heart around us, and it was the single most embarrassing moment of my life. We dated all through college, and since we've been together for so long we really grew together. You kind of love each other in a different way.
Where did you go to college, and did you go to the same college?
We did go to the same college: the University of Arkansas at Fayetteville. We were both in band there as well. That was a pretty awesome experience being able to be in the pregame and marching shows for football games. The pregame shows for Razorback games are a huge deal there, so that was really great to be a part of.
Did you get any sort of scholarship for being in band? Is that why you chose to go there?
I did get a scholarship for band, but I really wanted to be a part of the band there and a lot of my friends were going there too. There were five of us, including David and I, that went to college there.

What was your living arrangement like during college?
I lived in the dorms my freshman year with my friend Taylor, but then she moved to Mississippi after freshmen year, so I moved into the dorm with random girls (I don't recommend doing that). After that, I moved into an apartment for the rest of the time I was in school in Fayetteville.
What was your degree, and why did you choose it?
I switched my major like five times: Anthropology, Interior Design, Studio Art, Education, and History. I have a Bachelors in History with a minor in Art.
What made you settle with History and Art?
There are so many things that I want to do in my life, so it was hard for me to pin down one thing. I have always loved history and I have a natural talent for art, so it fit really well and I got to study classes that I really enjoyed.
Would you say you've always been pretty creative and good with crafts?
I never really took a lot of art classes when I was younger, but I had to take art in middle school and even though I did well in that class, I never really had much interest in it. It wasn't until I started taking classes in college that I really enjoyed it. I absolutely love ceramics and working with charcoal and pencil. For my last year of college, I moved back to Little Rock and stayed with my mom. I finished out at the University of Arkansas campus there. The last art class I took was painting, and I thought I was going to be really bad at it, but I just needed one more class. The teacher pulled me aside and asked if I was going to get my Masters and that I should really consider it because I have a real talent for it. I think that was honestly the point where it occurred to me that I could really be good at it.
Did you ever consider a career in art, or is it more of just a hobby?
There is a lot that I still don't know about art, but eventually I would love to have a career in it. I need a lot more experience and practice though.
So Katie, do you enjoy traveling or consider it one of your hobbies?
It hasn't been in the past three years or so, but I'd definitely say it is a hobby. My dad took me to Los Angeles, Chicago, and Washington D.C. in high school, and we have traveled all over the South. One of the great things about a love of travel and history is that wherever you go you can find and enjoy culture and history. I still want to see places in the U.S., but I think I am most excited to visit Ireland, England, and Italy. I think I would swoon from all of it.
Out of the places you've visited and lived, which one is your favorite and why?
It would probably be either St. Augustine, Florida or New Orleans. I have this weird thing. I really like that there is something almost mystical about places like that. In St. Augustine there is a street that still has the cobblestone from the 16th century. So just think, you are walking on a street that people walked on that long ago. All of the lore in New Orleans is pretty fascinating too, and some places are supposed to be haunted.
Are you a fan of scary stuff?
I do like horror, but I don't know why. I like horror films, haunted houses, and such.
Would you consider yourself to be a thrill seeker?
It depends, I mean of course you get excited from horror movies and stuff like that. I tend to watch them more to see if the do scare me, which most fail at. But once I went hiking with a couple of friends, and we had to go on this narrow path where the edges dropped off. It was less than two feet wide and I was pretty petrified and didn't like it at all. So I'd say I'm a thrill seeker in a controlled environment.
Who is the person (or persons) you consider to be the biggest inspirations in your life, and why?
That would be my mom and dad. After my parents divorced, my mom worked really hard to be able to provide for me. For most of my life she has worked three jobs, and still made time to be there for me whenever I needed it. I don't know how she does it, but I hope to be able to live up to that when I'm a mom. My dad inspires me everyday to live. He did have a lot of hard times in his life, but he never gave up on himself or me, and he was always there when someone needed his help. I want to be like that, to be able to help people when they need it.
Tell us some of your favorites! What about your favorite movie, song or genre of music, book, food, word, person, or thing.
I don't have a favorite color. That's not a cop out, but like when I'm painting I love to create colors and they all have their own beauty and appeal. My favorite food is totally crab legs, but another favorite is steak and potatoes made the Gordan Ramsey way. It's not healthy, but it's melt in your mouth good. My favorite drink is sweet tea, and my favorite books are The Key Trilogy by Nora Roberts, but I also like The Hunger Games.
My favorite movie… that's tough, but it would probably be The Ocean's Trilogy or Pride and Prejudice. I don't have a favorite genre of film, I like a very wide variety. I do like video games, and my favorite game would definitely be The Last of Us! It's a scary game that is creepy, unpredictable, and it will startle you. As for a favorite person, I like people and I don't think that life would be the same without the family and friends I have. My parents are pretty darn awesome.
We never talked about you being a gamer! Tell us a little about that and how you got into it.
Well, when we lived on the farm we played Sega, then in the apartment I got a Gameboy and a PlayStation 1. I think that when I was somewhere between eight or ten years old. My mom got me Final Fantasy 8 and I loved it. So I just kept playing video games. I think it was something that my mom thought and hoped I would grow out of, but I didn't. I didn't play games all the time, just sometimes on the weekends and holidays. In high school I didn't play very often at all because I was always with friends and David. During my Freshmen year of college David's roommates got him playing World of Warcraft, so I played it too and that kind of made me miss the older games that I was playing. I would play in college during downtime on my old PlayStation 2. I didn't really have a good laptop so I didn't actually play WOW a lot.
Do you favor a particular style of games over another?
I definitely like a good story. One of the things that appeals to people when they are reading is that they get to envision the story as they see it and get engrossed in what is happening. Video games, at least the ones with good stories, can do that too.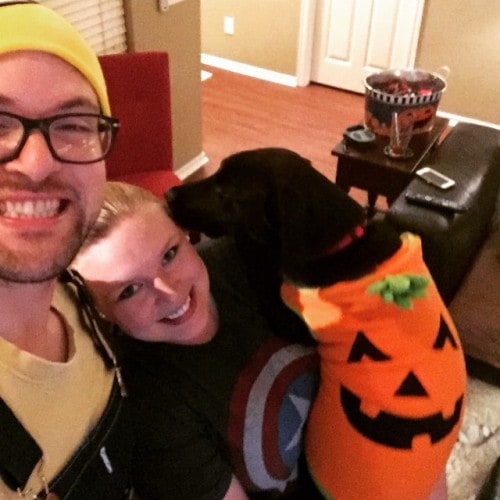 You also recently adopted a puppy, right?
Yes, we did! Woodrow is a four month old labrador puppy that we adopted about a month ago. He is super cute and really well trained, although right now he is teething so he has gone through a LOT of toys. The other night we were watching TV and eating ice cream, and Woodrow went over to his bowls and we heard this clicking sound. A few seconds later, here comes Woodrow trotting around the living room with his food bowl, and then brings it around to David's lap. Oh, I wish I had been able to record it. He can sit on command and now he doesn't eat food or treats unless you tell him he can. He's still not getting stay though, he's too excited for stay.
Alright, Katie! Here's the last question. If you had a superpower, what would it be, and why?
I would be a jumper. There is a movie called Jumper, and the main character can go anywhere he has been, or if he looks at a photo he can travel there. I think it would be pretty cool to be able to travel anywhere you wanted like that.
If you had to choose what sort of powers your nemesis would have, what would he/she be like? And how would you defeat them?
If my nemesis had the ability to control fire, I would transport them to Antarctica. Or you could do vice versa and have an icey nemesis, and then I could send them to that Sahara.
Always ready to help, Katie makes sure that we all have everything we need. Thank you for taking care of us and being such a great coworker! We hope to keep you around for years to come!