The Cost-Value Analysis of Offshore Development Teams
It's no secret that going offshore for software development is an involved decision for project owners in the U.S. If you don't have prior experience working with development talent from offshore locations, it can be a challenge to build a productive working model for your development needs. This is where most U.S. business owners struggle when going offshore: their inexperience with – and the resulting difficulty in – managing the resource.
Let us assume for a moment that the resource management variable is eliminated; what else would influence a business owner's decision to seek offshore developers? The two key factors that most consider are cost effectiveness and the value offered in terms of the quality of development services.
The global transference of new technologies has become faster than ever before. New development technologies, just like any other new trend, are embraced and implemented at the same pace in offshore destinations as they are here in the U.S. The rapid adoption rate leaves a considerably smaller gap in the development stacks of offshore developers and their American counterparts.
Since cost effectiveness plays a significant role when hiring for a project in the early stages of development, many find it compelling that offshore resources reduce costs to such a degree. A developer hired offshore can save up to 30 percent versus the salary of an on-site developer. Annual salaries for senior UI/UX engineers range from $115K – $135K in startup hubs like San Francisco. For Midwest states, the range can be $70K – $110K annually. On top of that, the fact that technical talent prefers working in tech hubs like Silicon Valley can make it difficult to fill open positions in states where the IT industry is less robust.
A similar resource when hired offshore, costs roughly $40K – $60K annually, and this even includes all of the infrastructure and management costs of the offshore location. With the increasingly small gap in the skill-sets of offshore developers, the cost-value proposition becomes quite attractive.
There's quite a difference between a good offshore partner and a great one. What level of onshore support is provided? What are you safeguards from a legal perspective? How much transparency is there to the actual work being completed? Do you have a direct line of communication with the developer? Ultimately, how effectively does your offshore partner align themselves with your business as a true partner?
At the end of the day, it's about carefully choosing and partnering with the right offshore provider to optimize your cost-value ratio and increase productivity for your software development projects.
What does the calculation look like with your cost-value analysis? Comment below, or tweet us at @allshore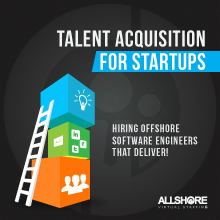 Offshore Talent Acquisition Guide for Startups
Let us show you how to build a remote software development team that drives your business forward!
{{cta('d5006690-dbf6-45c3-8d73-abfa9982eb4c','justifycenter')}}