Allshore in Pakistan – Day Six
Friday, May 25:
Today was our last day in the office. Before work the managers came to our hotel to take some group photos. The shoot was a lot of fun and we managed to draw quite the audience by the end.
On the way to work Bryan and I asked Raheel if we could drive around Islamabad a little bit and see more of the city. I recorded a lot of video on the drive, most of it fun, but some of it sad. For example, there was a woman holding a very young baby at an intersection begging for money. We were told this is a common sight in Pakistan and were instructed not to respond or even look. I am not used to seeing this so out in the open and it was heart-breaking to witness. Against the wishes of our driver, I rolled down the window and handed her $20. As we kept driving, we saw national monuments, parliament buildings, the presidential palace and, the Faisal Mosque. They were all such beautiful buildings, a few of which I hope to tour on Monday.
Work today was awesome, the guys held nothing back in making our last day there really special. Around 7:15 PM our PHP department ordered a ton of food and invited Bryan and I to their "high-tea" function. I video Skyped with my wife on the iPad and sat the iPad in the corner of the room. She watched from Norman, OK as I cut the cake and then smeared the toppings on Bryan's face.
In honor of the company cricket game we had planned, Bryan and I were presented with Pakistani cricket jerseys that their team wore in the 2011 Cricket World Cup. Thrilled, I immediately donned my jersey and then went into all the department rooms to show it off to thunderous applause. We had planned to play a large match between the PHP department and the .NET department around 6 AM, however a large rainstorm had rolled in and forced us to cancel it.
Disappointed with the weather, we decided to make due and after hours we played a minor cricket match in the office. I got up to bat and practiced hitting the ball as it bounced off the ground, slowly gaining confidence as I got the hang of it and began connecting better and better. My turn ended however when I hit the ball so hard back to the bowler (pitcher), who was our Pakistan Sales Manager, that it gave him a bloody nose. I felt awful and tried to assist him, but he took it like a man the game continued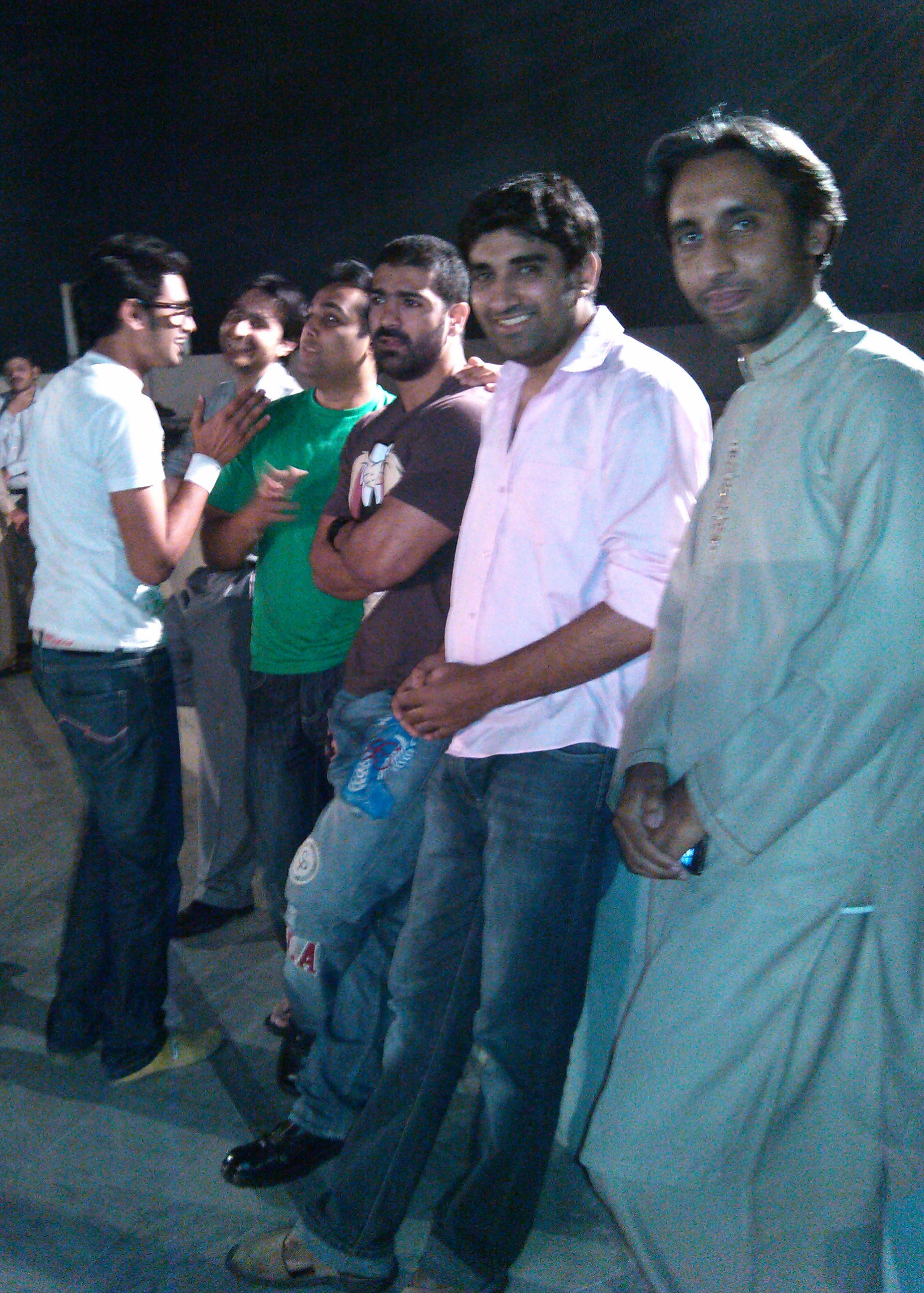 After that, I went up to the roof top and joined a large congregation of the workers there where we talked for about two hours as we watched the sun come up. This was probably one of the neatest and most satisfying parts of our trip. We got into deep discussions about American perception of Pakistan and Pakistanis, and how badly the Pakistani people want this perception to change. This explained why we had not been harassed at security check points, the police are under strict orders not to harass any foreigners so that they will do what I have done and spread the word about how accommodating the police are here. We talked about American and Pakistani laws and cultures and found many neat differences as well as a lot of similarities. We talked about extremists in all religions and the unfortunate backlash those few individuals can have on a group. And we talked about what role this company could play and that I hope it will play in helping to change some of those negative perceptions, at least within the community in which we work. The work they do here is much bigger than the code they write; they are ambassadors of Pakistan to the United States. Most of our clients have never spoken to a Pakistani person before, so our employees get a unique opportunity to represent Pakistan in a very positive way to the international community.
Similarly we have been lucky enough to represent the United States to this wonderful group of people. Everyone has told me how refreshing our visit has been as well as our passion for our business and our vision statement. They see it in our faces, in our body language and they see it because we came all the way over here to spend time with them. It's been our pleasure to spend time in this country with these amazing people and to be able to strengthen our bonds further face to face. It is truly amazing how loved we felt over here.
I ended my evening with a group of guys in a motorcycle race with Adeel S. Don't tell my wife! Thanks, Khurram for letting me borrow your wheels!