6 Best Kept Stealth Startup Secrets
As an early stage startup founder, should you keep your startup in stealth mode until you are ready to launch? This is a debate that has gone on forever in the startup community. Some of the best startup growth strategies have also come from founders operating their venture in stealth mode. With that in mind, here are 6 of the best-kept secrets that will provide rocket fuel to your stealth startup launch:
1. The #1 Reason for Going Stealth: Buzz Marketing (Not Idea Protection)
Startup gurus who are against stealth startups often argue that stealth launches are overrated. This is because idea protection is widely seen as the primary reason for keeping your startup in stealth mode. But from a marketing standpoint, awesome startup launches have often been achieved due to the buzz generated during stealth mode. So if you are considering whether or not you should go the stealth route, don't base your decision just on protecting your startup idea. Make sure that you consider this: Will a stealth launch give you a powerful buzz that could lead to product acceptance?
If the answer is yes, then plan out marketing sprints for your stealth mode just like you would plan development cycles for reaching an MVP stage.

Toolkit: You can use planning tools like LeanStack, or smartphone apps like Marketing Plan App (for Android), and Marketing Plan Premier (For iOS)
2. Growth Hacking Starts well before MVP Stage (Not right before Launch)
Growth hacking for your startup is a process, not a tactic or set of tactics that you use. Keeping in mind that applying hacks should start as soon as your road to a minimum viable product begins. Map out your growth hacking strategy just as you would execute your business plan: with a step-by-step approach. Each growth marketing tactic will be specific to the stage of your MVP.
Start with the following tips.

1. Create a launch page in order to get prelaunch conversion by building a mailing list. Your target should ideally be people who you think are early adopters from your niche.

Toolkit: You can use landing page tools like LaunchRock, KickoffLabs and Unbounce.

2. Hack media coverage by targeting influencers early on.

Toolkit: You can utilize influencer marketing platforms like Triberr, Traackr, and Little Bird.
3. First Mover's Advantage is All about Execution (Not the Idea)
Your product idea may or may not be unique, but startup success largely depends upon how well your product actually caters to the needs of your target audience. It's how you diversify your solution from the competition that matters. Dropbox is a great example of how a startup capitalized on differentiating their value addition from competitors in order to gain a sizeable market share.
Here are some ways you can make your execution matter:

1. Keep your product a freemium: Keeping your primary product free of charge, and only charging for value-added functionality.

2. Your primary value proposition should be unique, not your product idea.
4. A Stealth Launch is a Marathon, Not a Sprint
Product development and marketing should be carried out similarly, in agile sprints. Stealth mode however, is a series of stages and not one single phase. Therefore it is essential that you see your plan your stealth mode as a broader cycle, with smaller tactical sprints based on idea stage and development stages.
During your stealth mode, test each marketing tactic as a 2-week experiment, and improvise your broader strategy based on the results.
5. Keep Your Early Adopters Hooked during Stealth Mode
Being in stealth mode does not mean that your audience engagement should be limited to building a mailing list. Throughout your stealth mode, stay connected to your early adopters by having conversations, listening to their input and just keeping in touch. The biggest mistake stealth startups make is building their mailing list and then forgetting about it until the prelaunch campaign. Successful stealth startups offer value to their audience even when they do not have a product update to showcase in their newsletters.
Your engagement strategy with your mailing list will differ at every product development stage. Here are some tips to keep audience attention once you have their emails.
Idea Stage:

1. Get feedback on your product idea before you create a focus group out of your early adopters, especially the influencers from your industry, and validate your product idea by asking them the right questions. Does the market need for your solution exist? And more importantly, does it offer a value proposition to your audience?

Toolkit: Use survey tools like SurveyMonkey, KwikSurveys, and SurveyGizmo.

2. Give incentive: Motivate your audience to engage in your surveys by offering them freebies depending on their interest. This could be anything from a free ebook, to other-product coupons, to exclusive free access to your premium offering.

Development Stage:

3. Create an experience with content curation: bundle your product update announcements with awesome curated content related to your niche that keeps your audience hooked for more. This will help you keep the feedback rolling by turning your product development into an experience of value for your mailing list.

Toolkit: Use a combination of content curation tools like Scoop.it, Paper.li and Curata
6. Closed Beta Testing in Stealth Mode should be a Key Marketing Tactic
Startup founders sometimes prefer to conduct closed beta testing internally to protect their idea, missing out on a key marketing tactic to engage early adopters. Getting influencers engaged by providing them exclusive, closed beta testing access can give you awesome feedback and an engaged audience at the same time.
Toolkit: Try beta testing tools like ErliBird and startup forums Y Combinator's HackerNews.
Do you have a stealth startup tip to share? Let us know below or tweet us @Allshore!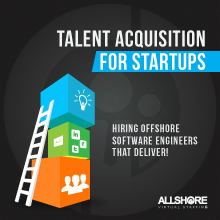 Offshore Talent Acquisition Guide for Startups
Let us show you how to build a remote software development team that drives your business forward!
{{cta('d5006690-dbf6-45c3-8d73-abfa9982eb4c','justifycenter')}}