Tips for Managing Offshore Teams
More and more leading startup businesses are finding strength within globally dispersed workforces. Regardless of the reason, whether it be to attract global talent that is unavailable locally, or in order to grow the business beyond borders, knowing the best practices of hiring, retaining, and managing offshore employees is vital for all current startup managers.
Just like any standard employee to employer relationship, accountability plays a major role in how effective an offshore working arrangement is, or will be. The need for standards of measuring accountability becomes even more necessary when extending your team to offshore locations under a sub-contractor. Managing offshore teams can be challenging. Here are 4 essential tips to make your offshore team accountable:
Tip #1. Set Clear Expectations with yout offshore team
It is impossible to hold someone accountable for something they don't fully understand. Take the initial time to educate your employees on what your expectations are from the very beginning. This is easily accomplished in the beginning by clearly defining and explaining their role, briefing them on the project and tasks at hand, prioritizing said project and tasks, and finally, having them take ownership of their work by allowing the opportunity for feedback. Introducing an offshore employee into your team with such clarity from the start of the relationship will enable them to be aware of what exactly is expected of them and what they will be held accountable for going forward.
Tip #2. Define Methods of Performance Monitoring
Performance management and review is imperative in order to get the most out of your offshore team. Like your expectations, these methods need to be well defined and clear from the beginning. Provide all team members with quantifiable KPIs, such as task completion within a planned time and/or budget, bugs tracked, tickets issues, etc. Additional qualitative indicators, including feedback from the project manager or team lead, are also valuable to consider. Once your remote workforce understands how performance is being evaluated, they will be able to meet and accomplish more company goals head-on.
Tip #3. Build an Infrastructure of Tools for Follow Up
While implementing those performance-monitoring methods is essential, the act of following up on each of the KPIs and goals you have put in place is potentially even more vital. Establish a means to actually track the KPI progress, and inspect for compliance routinely. Organization is easily managed through various practices, and is a necessity; if you have no process to continually evaluate team member progress, your KPIs in turn will eventually lose their purpose. There are numerous tools to determine how well your team is performing, and to ensure your goals are on their way to being met.
Related: 23 Awesome Tools for Tracking Your Startup Talent Performance
Tip #4. Align Your Remote Workers with the Greater Team Vision
Let's be honest – hiring offshore employees does include it's own share of risks. One of the main issues faced when working with an offshore staff, is a perceived lack of initiative and big-picture understanding from those employees, which can mostly be attributed to a cultural gap. However, this is also one of the easiest issues to resolve. Make time in the very beginning to fully explain both your company's mission and the greater vision of the specific project, to confirm all team members understand what the end results should be. No employee can effectively perform, do, or build something they don't understand. Once you have given them clear insight, have a manager regularly meet with them on those greater goals. Then, utilize online communication tools to the fullest, to prevent any disconnect that physical distance threatens cause. By making it a habit to incorporate offshore or remote team members into your company culture from day one, these employees will gain a better sense of ownership, accountability, and project understanding, and will most importantly, significantly improve in performance.
Accountability is critical to the success of any project or initiative. Regardless of your staff's location, make them a true part of your offshore team by providing them the training, tracking, and attention you would for any employee. Only when you give your offshore team the vision, direction, and tools necessary to accomplish the end-goal, will you set everyone on the path to success.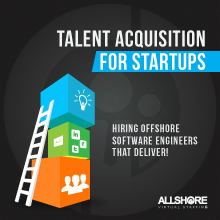 Offshore Talent Acquisition Guide for Startups
Let us show you how to build a remote software development team that drives your business forward!
{{cta('d5006690-dbf6-45c3-8d73-abfa9982eb4c','justifycenter')}}