4 Alternative Startup Funding Options before the VC Stage
So you have just launched a minimum viable startup product, and now you are seeking investment for your next stage of product development. Fundraising options for startups have never been stronger than they are now, with so many seed investments taking place in early stage startups.
But in order to raise capital externally, your startup concept must demonstrate a product that your users will love and will use frequently. Raising about $500K of funding from individual investors could work for you at an early stage, but to get a venture capital firm's attention you will need to show some real traction. Most venture capitalists will judge your traction by the number of active users that your product has. A good average would be around 100,000 users per week.
Not every startup idea brings a completely unique solution to an existing need, so it's possible that your particular business niche or product type is unable to leverage that kind of traction at your current stage. In this case, to meet your fundraising requirements, you must look to secure alternative capital sources for your early stage startup. Here are 4 additional ways to secure funding if you are not ready for VCs yet:
Find a Co-Founder
Finding a like-minded person to not only provide expertise in areas you lack, but as a secondary investment partner, is necessary to grow your startup venture. VCs are more open to consider funding startups that have more than one founder, because they seek startups with co-founders who have diversified skills to invest in. To find an ideal co-founder, start by looking into your own network. If you don't have anyone in mind to be your wingman, then try connecting with entrepreneurs on co-founder networks like CoFounderLabs and Founder2Be.
Apply for a Grant
Ask anyone influential, and they will tell you that startups are the backbone of the U.S. economy. The government has various options available for federal grants based on your business niche and target demographic. You can find out which government agency offers grants for your business segment at FederalGrants.
Start a Crowdfunding Campaign
Crowdfunding has become a very popular and very effective means to secure early stage investments for your startup. If you can create an interesting product pitch to gain the attention of the audience you're hoping will invest, chances are that you will be able to easily secure $500K from crowdfunding sources like Indiegogo and Kickstarter.
Approach Angel Investors
Once you have a product pitch and also put together a product demo, you can also approach individual angel investors to seed fund your startup. This would be a step up from crowdfunding, as AIs have the connections to serve as the gateway to VC firms for future rounds of investments. Build a strong startup profile on startup networking sites like Gust, and approach angel investors with a strong pitch they won't be able to refuse.
What other startup funding options have you tried at an early development stage? Post your comments here or tweet me @agee77 or @allshore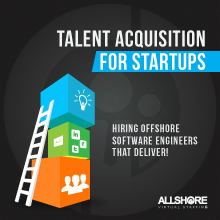 Offshore Talent Acquisition Guide for Startups
Let us show you how to build a remote software development team that drives your business forward!
{{cta('d5006690-dbf6-45c3-8d73-abfa9982eb4c','justifycenter')}}