3 Ways a Hybrid Team Facilitates Communication with an Offshore Development Team
In my previous post, I talked about how a 100 percent business hours overlap can add value to your offshore staffing arrangement. Having your dispersed teams collaborate with you in real-time can be beneficial in eliminating a lot of remote hiring pitfalls such as deviation from product development goals and the resulting unproductive work hours. On top of that, overlapping work hours help build a more productive working relationship between your onsite and offshore teams. But how do you get your offshore resources to rapidly develop an understanding of U.S. business culture without compromising on productivity?
One of the biggest reasons that offshore teams fail is a lack of cultural understanding. Combining remote workers from different geographical locations and diverse cultures can be difficult to do. No matter how technically strong your offshore developers are, they will be ineffective if they fail to understand and adapt to the norms of business in U.S., resulting in a cultural gap between your onsite and offshore teams.
The best way to counter this cultural gap is to have an onshore team relations expert that understands how to communicate with people from diverse cultural backgrounds. This person would ideally be an American client relations liaison from the service provider's side, tasked with making sure that the offshore team perfectly understands your needs. A hybrid offshore staffing model like this with an onshore contact person ensures that your offshoring arrangement works well in the long run. Here are 3 ways a hybrid approach facilitates communication with your offshore developers.
Fosters Cultural Understanding for Better Team Collaboration
The primary task of an onshore relations manager on your hybrid team would be to make sure that the offshore resources are able to understand and adopt your startup culture. This includes not only an understanding of your founding team's working style, but also U.S. business culture as a whole. Offshore workers are generally lacking when it comes to understanding the importance of task commitment and deadlines, and an onshore liaison working alongside them can keep the offshore team accountable for their work and in constant communication.
Immediate Problem Solving in a Cross-Cultural Setting
Face to face interaction is very important at times to be able to trust a new staffing service partner. Having an important initial onboarding meeting with an onshore liaison in person will clarify your business goals to them clearly and make sure that expectations of trust and openness are in place. If a problem arises during your working relationship with the offshore team, technical or not – having a hybrid team with an onshore touch-point to address the situation can save you a lot of time and effort in troubleshooting.
Legal Safety and Control under U.S. Law
An offshore service partner with a registered U.S. presence and dedicated contact person for your company gives you the assurance that you can maintain control over confidential project information and enforce legal contracts. For startup owners, protection of intellectual property is a huge concern when building a unique idea into a practical product. A hybrid team with a U.S. representative not only guarantees that information security remains intact, but also educates your offshore team on the significance of bringing a disruptive idea first-to-market.
A hybrid onshore-offshore staffing model effectively eliminates the typical issues that prevent startup owners from opting for offshore development resources, even if they are open to hiring remotely in the U.S. Just make sure that your offshore partner has the right hybrid structure in place, and you are all set to make your move on the next big application with an internationally mixed development team.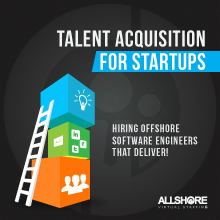 Offshore Talent Acquisition Guide for Startups
Let us show you how to build a remote software development team that drives your business forward!
{{cta('d5006690-dbf6-45c3-8d73-abfa9982eb4c','justifycenter')}}