23 Awesome Tools for Tracking Your Startup Talent Performance
Working in a startup environment means that you constantly need to keep track of how your talent is performing, especially since hiring remote teams has become a common trend. It's essential that you are on top of every performance aspect that affects your talents' productivity. So how do you manage hybrid teams and still stay on track with your startup goals? Here are 23 amazing tools that can help you keep track of your startup talent performance.
Time Tracking and Productivity
Time management is one of the most important aspects of any effective workforce. For startup owners managing remote workers, it is critical that their talent are self-managed when it comes to delivering tasks in a timely manner. Here's a list of some useful time tracking tools to boost productivity.
Project Management and Reporting
When working on a complex startup project, it is vital that development sprints are kept in line with the overall project goals. For this purpose, you should have the right project management tools at your disposal so that your tasks and deliverables remain on track. An expert level team must also be able to report their work efficiently. Here are some of our favorite tools for project/task management and reporting.
Skill Improvement
Extraordinary talents are those that are always learning and improving their skillsets. In the software development industry, top talent is differentiated by the fact that their skill stacks are always aligned with the latest technology trends. Here are some of the best learning and skill improvement tools that your talent can keep at their disposal.
LearnUpon — Learning management (LMS) designed for training teams
Skillmeter — Online skill testing tool
Lynda.com — Online video tutorials & trainings
Remote Collaboration and Monitoring
For a remote workforce, precise and timely collaboration is important to keep team efforts synchronized and tasks coordinated to meet project deadlines. It also becomes important that your offshore team remains accountable for tasks and are able to share important project information quickly. Here are some essential tools that your startup talent must have to collaborate effectively.
Talent Recognition
Awesome startup cultures are often created around highly driven talent, and to keep your team motivated you must have training and reward programs in place that reinforce their achievements. Training programs must be integrated into your startup culture so that positive efforts are rewarded as a standard procedure. Here are some really cool talent recognition tools.
What other tools do you find effective in tracking and improving talent performance for your startup?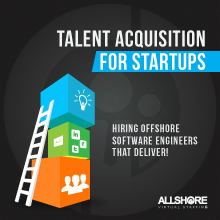 Offshore Talent Acquisition Guide for Startups
Let us show you how to build a remote software development team that drives your business forward!
{{cta('d5006690-dbf6-45c3-8d73-abfa9982eb4c','justifycenter')}}